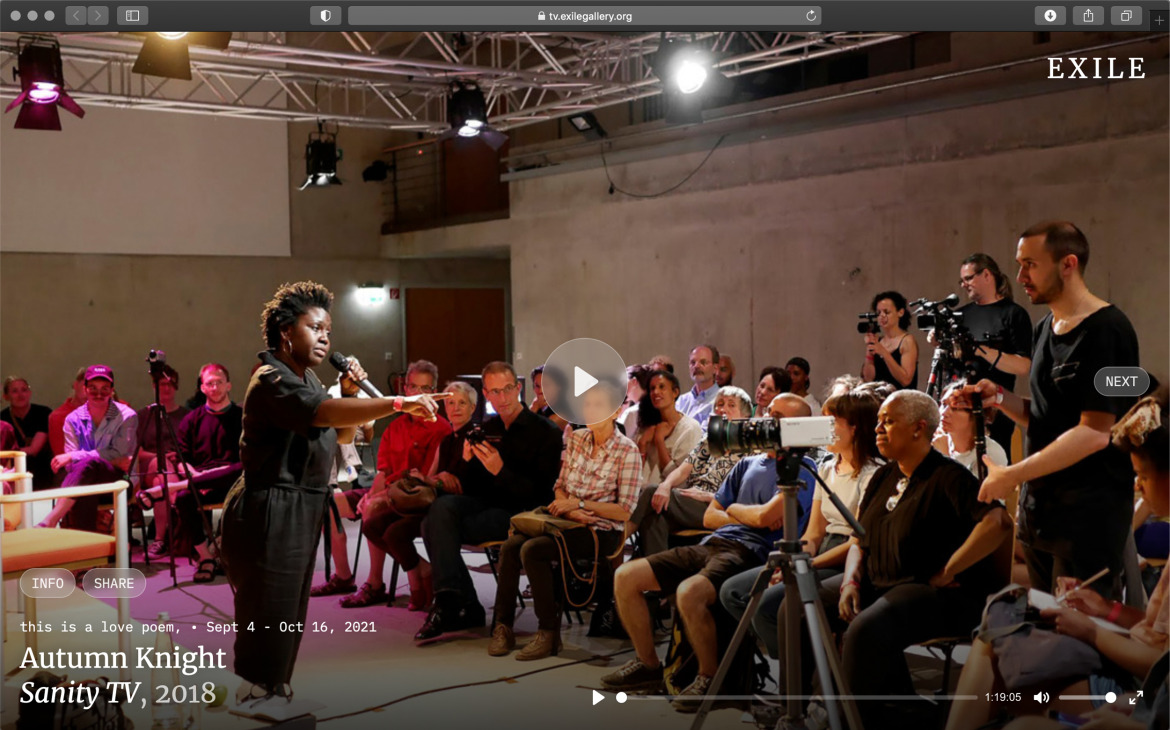 EXILE TV is a new online feature aiming at a wider distribution of film, video and animation. You can access →EXILE TV directly on your home flatscreen or computer by entering https://tv.exilegallery.org into your browser or by clicking on the links throughout this text.
Each program either correlates to the concurrent exhibition in the physical gallery space or presents an independent presentation. All programs are only viewable for a limited period of time.
Click →EXILE TV to access the channel which will open in a new window.
As part of the exhibition this is a love poem, curated by Cindy Sissokho two video works by participating artists Autumn Knight and Rosa-Johan Uddoh will be screened on →EXILE TV for the duration of the exhibition until Oct 16.
Autumn Knight: Sanity TV, 2018. Digital video, 89:05min
Sanity TV, is an ongoing performance series that investigates the flexible boundaries of identity, psyche, normalcy and reality through the format of a fictional talk show. The performance is improvisational in structure.The interviews unfold as responses to various prompts, then unravel toward something unrecognizable. The work uses irrationality as a way to make meaning in the contemporary situation. Power and relationships are negotiated through a constant restructuring of each moment. Laughter/occasional discomfort.
Rosa-Johan Uddoh: Performing Whitness, 2019. Digital Video, Episode 3, 05:14min
Performing Whitness (2019) is a series of three works inspired by the figure of Moira Stuart, the longest serving Black female broadcaster on the British Broadcasting Corporation (BBC). It is a parodic analysis of media and broadcasting services. The humoristic rhythm is excessive glamour. All three parts of the work are screened in the gallery while part 3 is also screened on EXILE TV.