Untilted
Nschotschi Haslinger
Tess Jaray


Sept 24 - Nov 11, 2022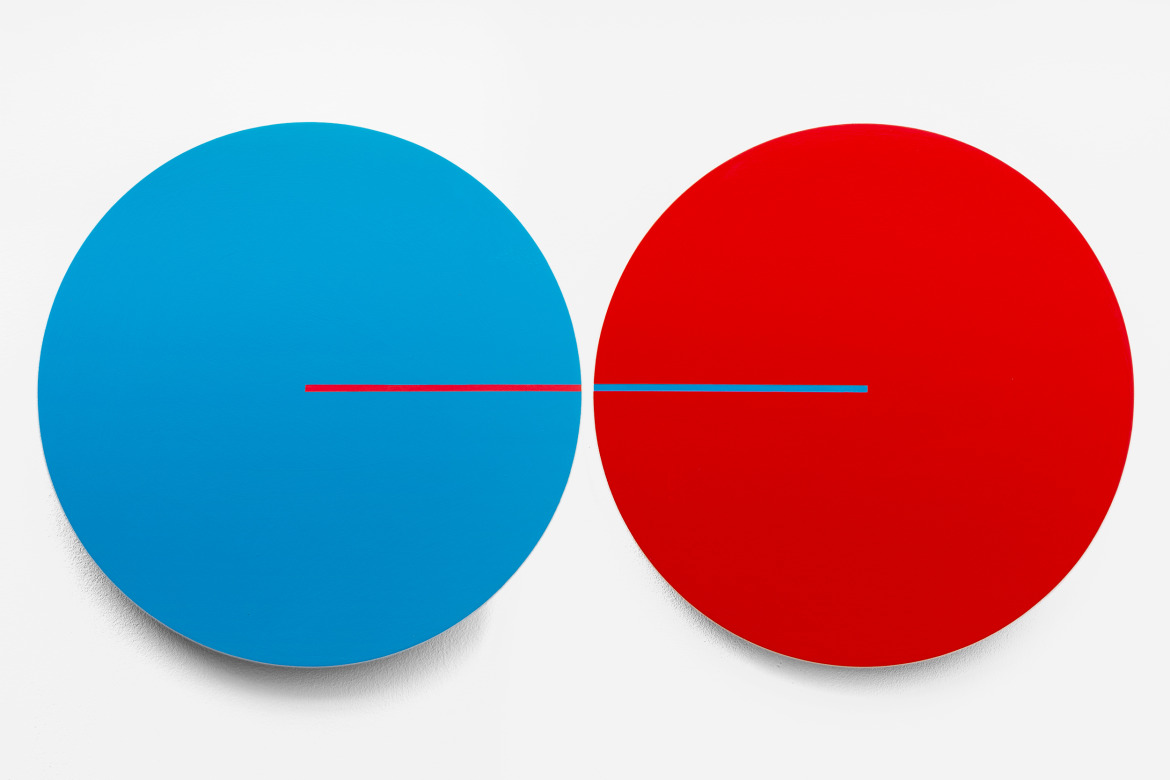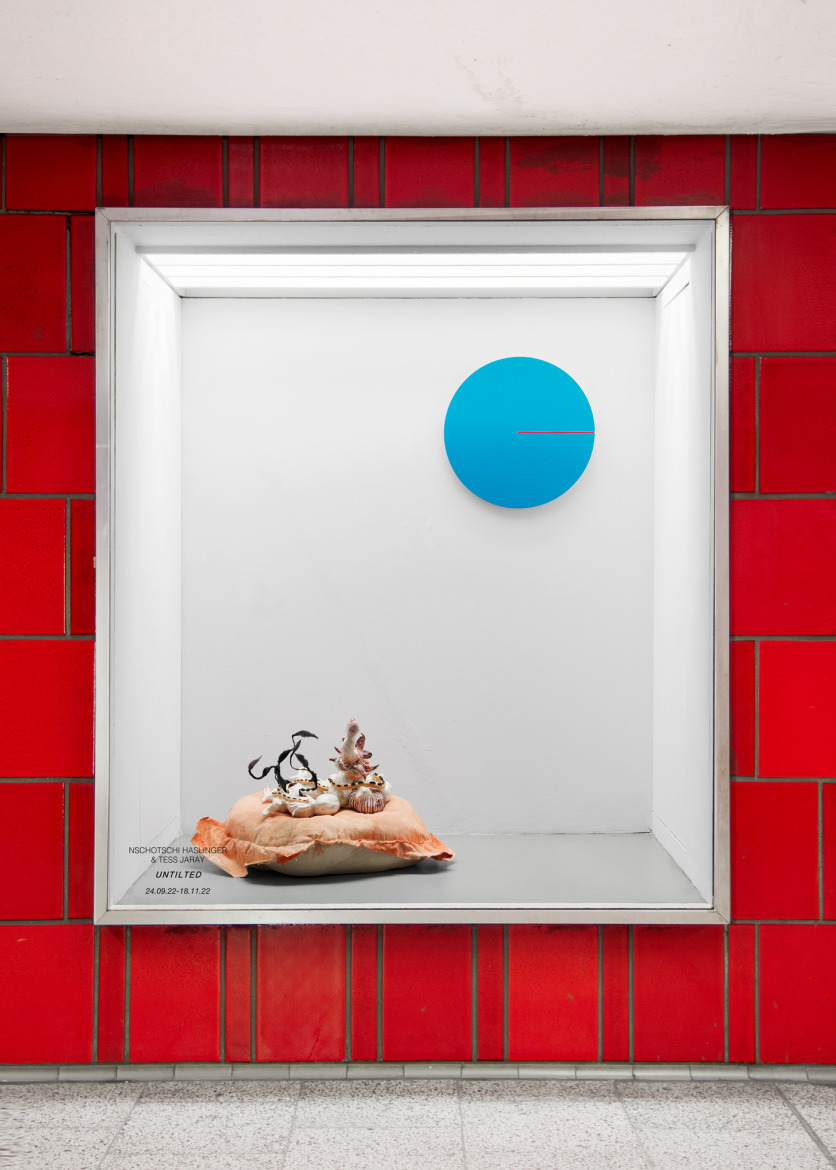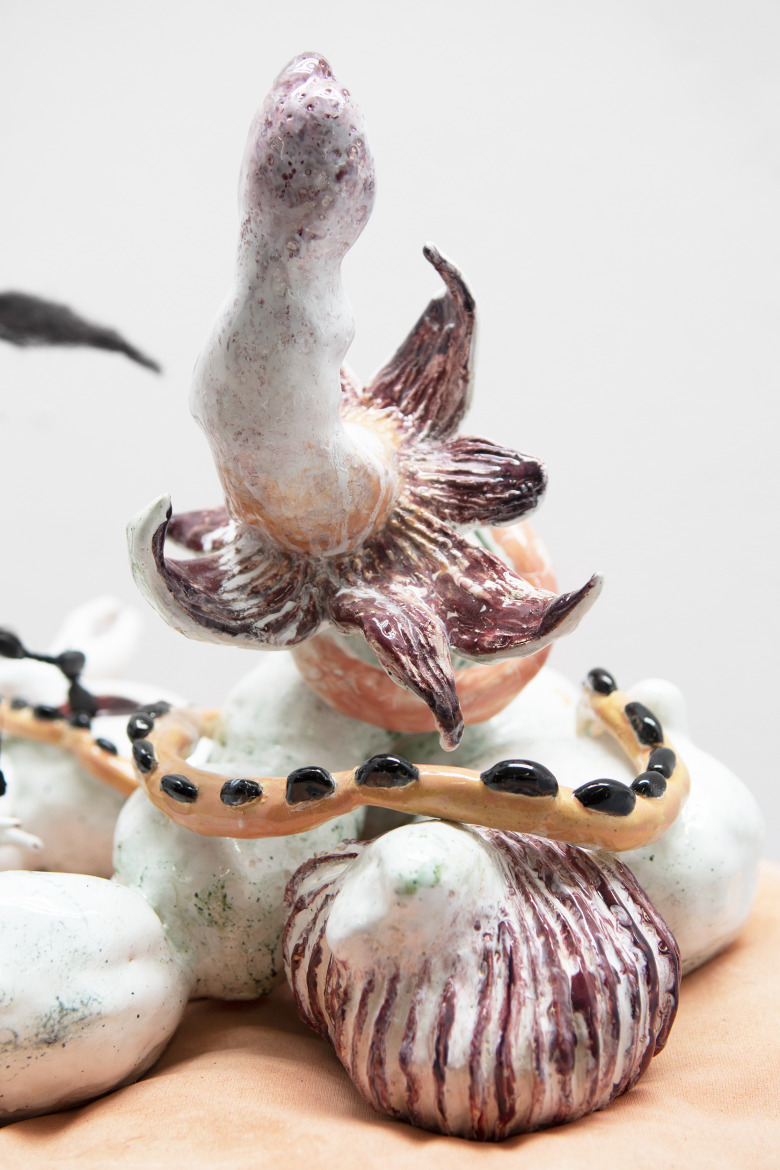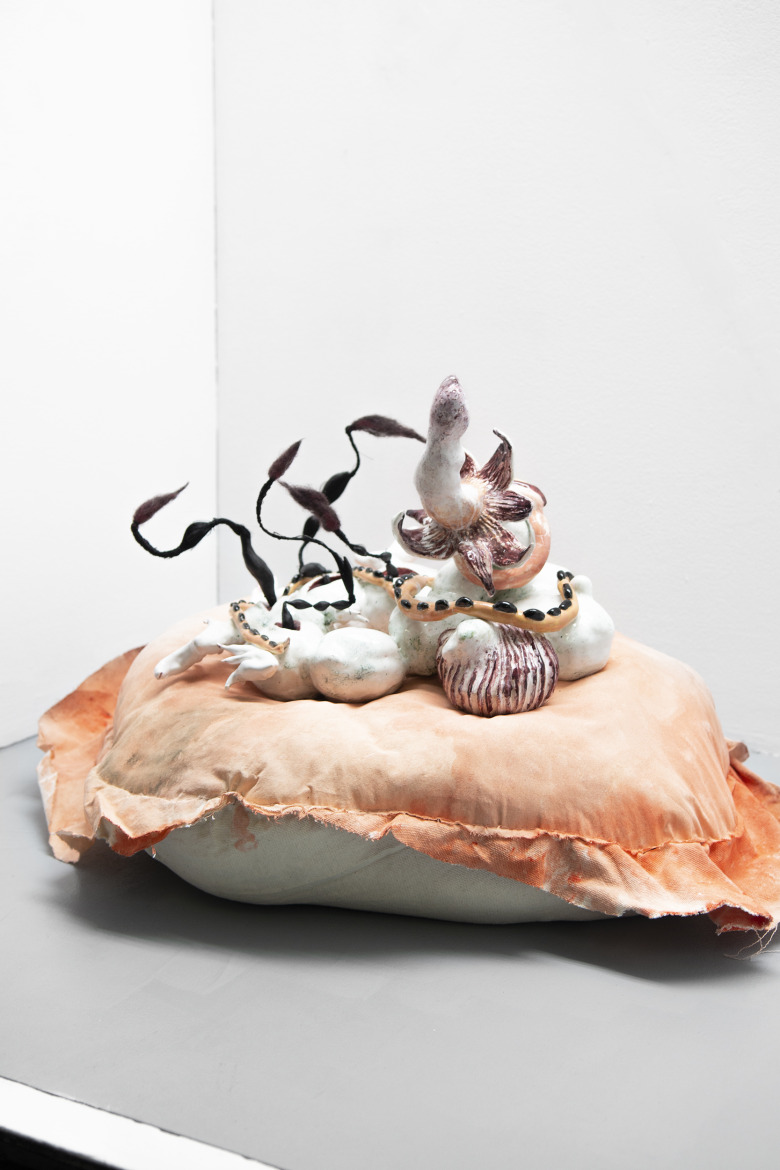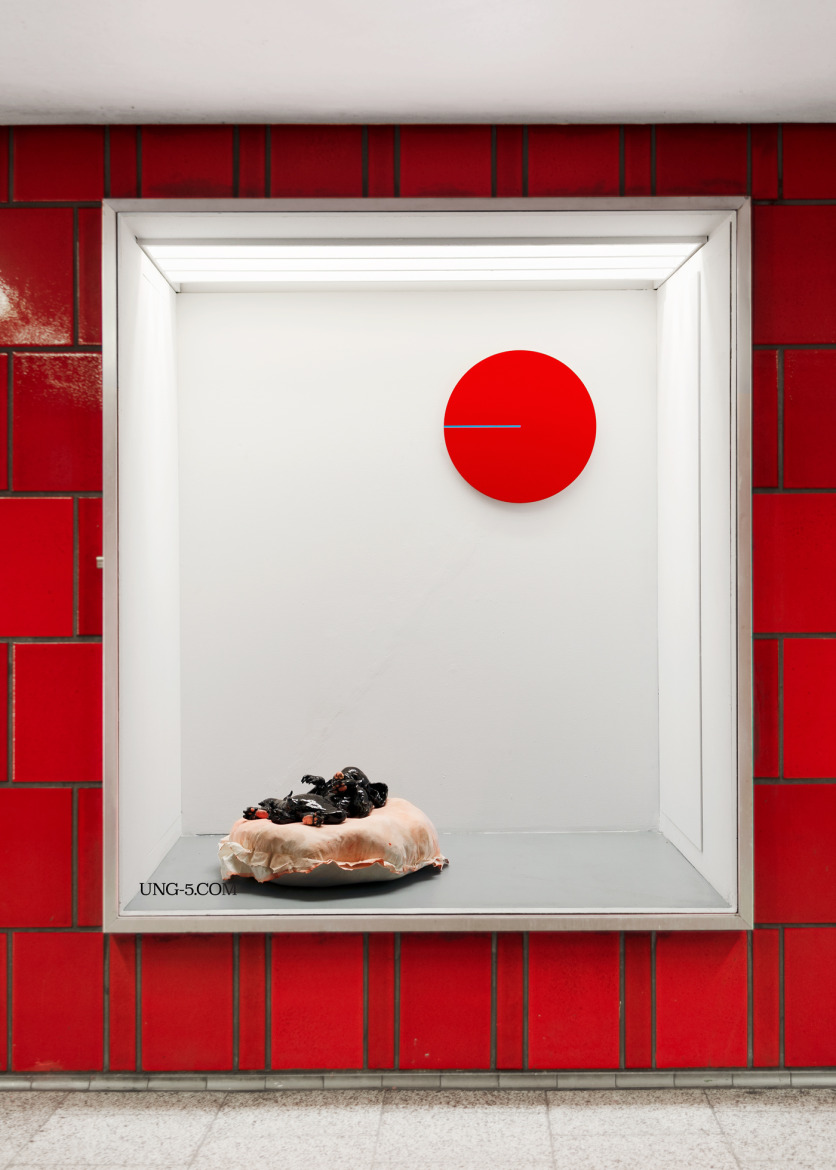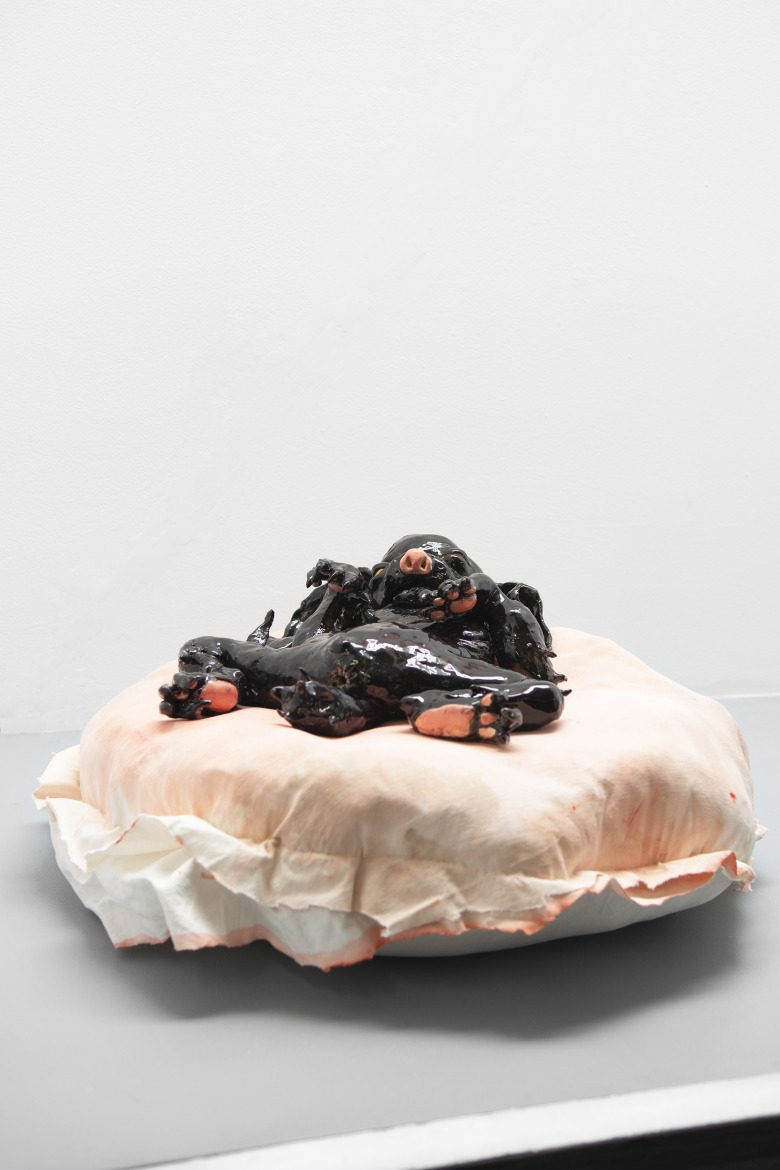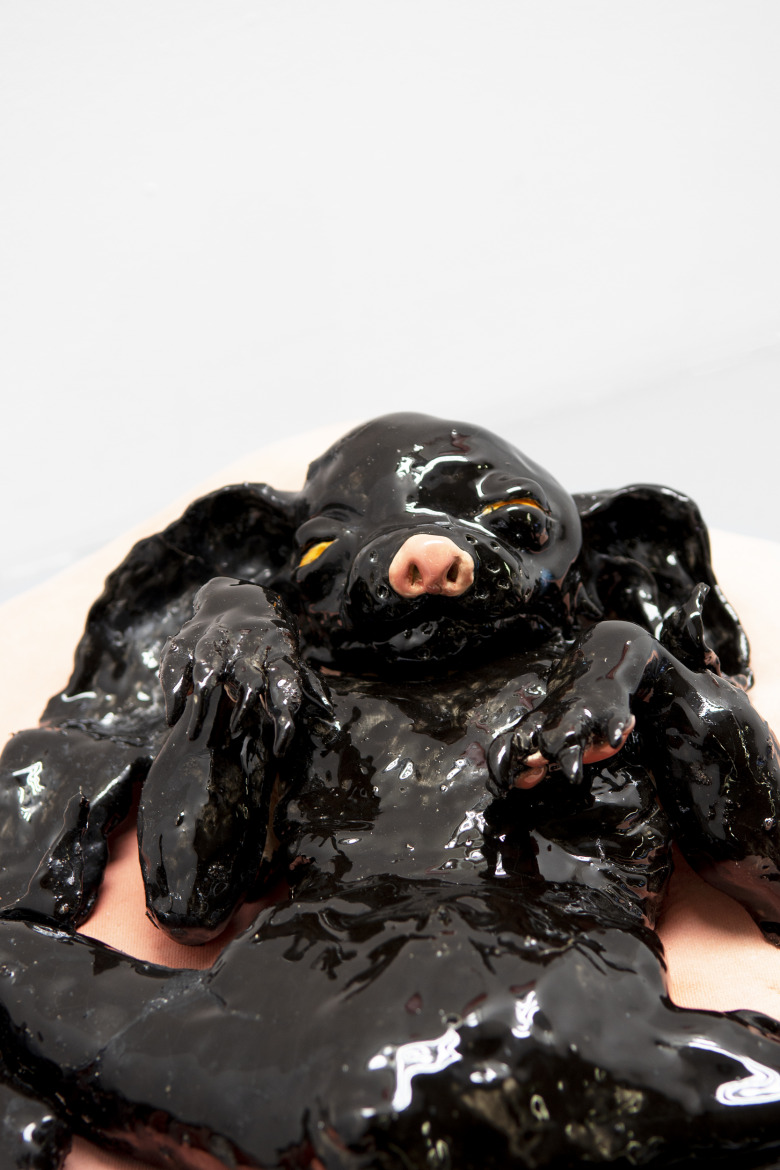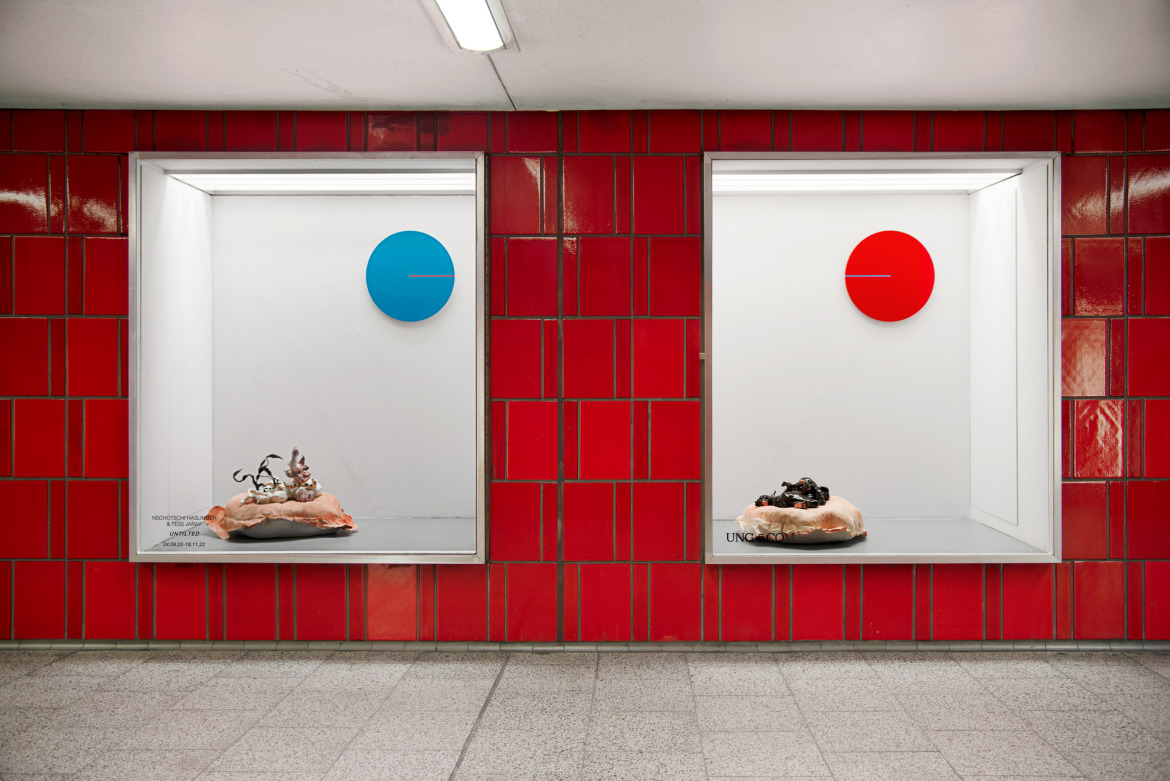 EXILE is happy to return to ≈5 with the exhibition Untilted featuring recent paintings by London-based artist Tess Jaray (born 1937) together with new ceramics by Berlin-based artist Nschotschi Haslinger (born 1982).
The vitrines of ≈5, situated in Cologne's Ebertpatz subway station, are defined by their post-war, brutalist architecture. Found within an underground concrete maze of walkways, piazzas and shop windows, the vitrines are fully immersed within the symmetric logic of such rational architecture of the time. The psychedelic hue of the surrounding red tiles evokes an almost aggressive or at least unnerving response. When walking by the vitrines, they recall a filmic take in two shots or, when viewed together from a distance, a kind of dialogue amongst them.
Contrasting the brute architectural rationality, the presentation's title might be a typing mistakes. If not an error, the first analogy that might spring to one's mind could be the eponymous 2005 album by the electronic music band Autrechre. Yet what is the difference between untitled and untilted? This dichotomy has most poignantly been explored in the visionary work Untitled (Perfect lovers), 1991 by Félix González-Torres. Two equal clocks are aligned, yet one quickly learns about their incontrollable individuality, their emotional differences, irregularities or imperfection. Any initially perceived synchronized duality will fade with the ticking clocks inevitably ending out of synch. Yet, as perfect lovers, they are defined by their individual identities and not their structural systemic perfection. The untitled perfect symmetric surface falls behind to reveal a complex and humane, an untilted, reading.
The two artists chosen in dialogue to one another work in very diverse practices. At first sight, their link might appear even vague resulting in an unclear, raw or even missing connection. Another programming error? It is not, as both artists address emotional qualities and longings in their works quite similar to the mentioned work by González-Torres. Might Untilted be an (un)intentional homage?
One work per artist per vitrine leaves the featured works isolated and exposed to each other as well as to the passing viewer. Beginning with the diptych by Tess Jaray, that is forcefully split across the two vitrine spaces, each painting consists of an essentially monochrome circular plane that is superimposed by a perfect thin line measuring from the outer edge to each painting's circular center. Each line is painted in the color of its diptych other. With the lines set in horizontal position and facing one another, the work appears as a strict geometric exercise, yet it mutates through perceptions of color to ask about the interconnectedness between the two parts. One cannot exist without the other, an emotional interdependency expressed through rigid symmetric shapes of circle and line. If indeed an homage, Jaray's work could refer to a pair of one-handed clocks that tick in mirrored synchronicity but aim to blend into relational belonging through the missing part of each other's color plane.
A recent ceramic by Nschotschi Haslinger rests at the bottom of each vitrine. Relaxing on comfortable pillows, these beings continue her exploration into magical, dream-like spheres expressing diverse feelings manifested as physical identities evolved to some stage between gruesome monster, psychedelic tripping and post-human life form. Their relationship to one another, in explicit difference to Jaray's work, remains unclear. The first being, Schwarzes Bunny (2022) alludes to filmic visions of teenage nightmares and somehow reminds of Donny Darko (2001). The ugly bunny, uncomfortably exposing its genital area, asks for attention, care or even love. Fear, isolation, loneliness and loss are integral parts of human existence. The other being though, entitled Vibrationen V (2022), does not appear in need of much attention but seems to have evolved. It confidentially acknowledges its own negative emotional darkness expressed through external feather-like and exposed organs while appearing as a confident, amorphous, poly-amorous, post-gendered identity. Without a need of a smooth surface Vibrationen V has morphed into a self-certain, self-sufficient self.
Jaray's and Haslinger's works are left to communicate in their isolated display cases to the passer-by through their self-reflexive, crisscrossing emotional interferences. The paintings by Jaray as much as the ceramics by Haslinger don't guide us into linear belief, instead they point to fragility, emotionality and dependency as a basic human need and positive instinct. It is each viewer's choice to sense relations between the works as much as – through the glass – to themselves. 
→≈5
→Nschotschi Haslinger artist link
→Gwenn Thomas: Jack Smith in Cologne, 1974 & 2018 at ≈5