VIENNA CONTEMPORARY
Abdul Sharif Oluwafemi Baruwa
Sept 7 - Sept 10, 2023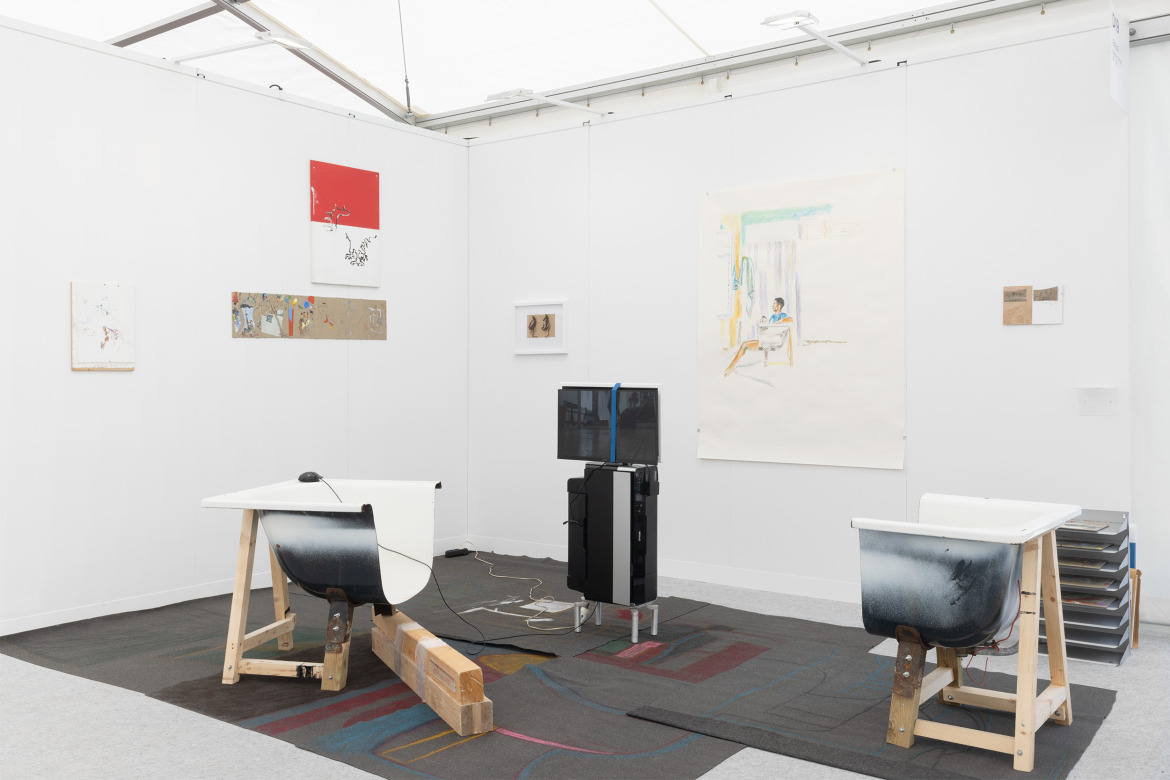 EXILE is pleased to participate in this year's VIENNA CONTEMPORARY with a solo-presentation by Vienna-based artist Abdul Sharif Oluwafemi Baruwa.
If you are absolutely certain of something, you could make an assertion that something is like this or like that. If you are not quite sure and only think of the possibility that something could be like this, you will not make an assertion but will take the thought as a mere thought. These thoughts are as aware of their temporality as of their implied immutability. They change, manifest themselves for a moment and can be discarded again in no time at all. If you look at Abdul Sharif's work, then it is more connected to thoughts and their knowledge of an alternative possibility than to actual claims. When they come together to form a construction from recognizable material fragments, then this never conceals their fragility and irreversible nature.
Upon first instance, Abdul Sharif's work appears as a sculptural sketch. What remains is an impression of a sculptural and painterly reality that breaks away from the assertion of a manifested environment making a plea for the transformative. What appears for a moment as an expansive possibility, at the same time suggests the alternative of falling back into thought in order to reconfigure oneself anew. With this in mind, Baruwa creates chimeras, sculptural ghosts. This temporality has the charm of film stills, which one never gets to see when watching a film and only perceives as unseen. Once they emerge, fixed in the picture and for the moment, they mask the time they don't have.
Text by Andreas Spiegl. Translation by Christian Siekmeier.
EXILE and the artist are very grateful to have been awarded the Bildrecht SOLO Award. The jury statement reads: "Abdul Sharif Oluwafemi Baruwa (*1975) impressed the jury with an installation of video, sculpture, drawing and object. In it, his own identity appears as a reflection of conflict-ridden socio-political structures. The homeliness suggested by the images and objects is fragmented and refers to current divisions in society. Abdul Sharif Oluwafemi Baruwa formulates charged topics, such as everyday racism, nationalism and migration, with ease and combines the poetic with the politics. With this gallery position, the booths represents the commitment of EXILE, which consistently bridges art and political history."
Selected Press